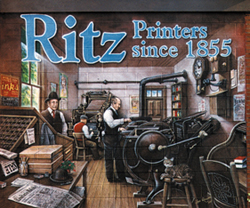 In this section you'll find information regarding the people, culture, and physical plant of our company. If you want to know where we're located, our hours of business, or simply what makes us tick, just follow the provided links for more information.
It's extremely important to us that our clients know with whom they're doing business. Once you take the time to find out what we're all about, we're confident you'll like what you see.
The illustration at right is a photo of the mural painted on our north wall by renowned Kitchener-Waterloo artist Lance Russwurm in September, 1997. It shows Great Uncle Dan Ritz, Grandfather Otto Ritz at the Linotype and Great-Grandfather Jacob at the hand-fed platen press. We're thrilled with the historical accuracy and detail! We asked Lance for a mural to advertise our business to the traffic moving by on the street. He gave us, instead, a pictorial celebration of our past!